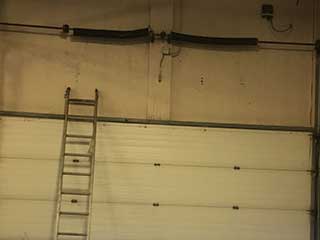 Garage door springs are the responsible parts for your garage door to go up and down. Those essential parts are manufactured in a fashion that allows them to last for a long time. Typically, a spring would last for almost 10,000 rotations or more. However, springs are more prone to breakage given the tremendous stress they are under. If you're facing a problem opening and closing your door, then the problem is probably with the springs. Our team has the most extensive experience dealing with all spring-related problems from balance adjustment and rust to breakage.
Torsion & Extension Springs
Those two spring types are different in both how each one looks and where it is located. They are both, however, responsible for the same task which is lifting and lowering your garage door. Torsion springs are the larger ones that are usually located in the top edge of the door, while extension springs are smaller in comparison, and are found in both sides of the door. Any door would have only one of those two spring types, never both of them together.
All About Springs
Whether your garage door is stuck, difficult to open and close, unbalanced, or just squeaking, these are all indicators that the problem is with the door's spring. Our expert technicians will figure out the problem and what needs to be done right away. Whatever the case requires, we will adjust or replace that spring for you and get your garage door working as good as new in a very short time at incredible competitive rates.
Don't Do IT Yourself, Stay Safe
It is always good to do your research and learn how things are done. However, some DIYs are extremely dangerous to attempt without professional help. Garage door repairs are no picnic; in fact, over one thousand injuries happen yearly to people trying to fix their own doors without consulting a professional. Since the springs store tension in order to lift the door and keep it open, you can only imagine how dangerous they are to handle. Stay safe, call us now and let our experts will take care of it for you.
We also offer:

Garage Door Roller Repair

Oil Tempered Torsion Springs

Garage Door Safety Inspections

LiftMaster Garage Door Opener Repairs