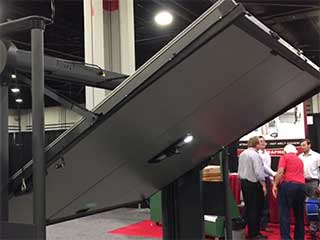 You want your home to look its best all year round. Not only that, but you want to know that you and your family are adequately protected, and that intruders won't be able to easily gain access to your property. Homeowners know all this, and are happy to shell out thousands of dollars on state of the art surveillance cameras, exterior remodeling and smart home technology. But few Americans consider how important their garage door really is, and how much of a difference it can make. Our experts at Garage Door Repair South Saint Paul want to make sure you don't miss out, which is why we decided to collect a few reasons why upgrading your door could be the best home improvement step you could take.
Improved Home Security

An older door, especially of the "up and over" variety, is going to be more vulnerable to forced entry. Improvements in door security have made modern door models far more difficult for thieves to break through, which helps keep your valuable property safe and you and your family protected.

High Quality Faux Wood Panels

Real wood garage doors look amazing, sure - but they're expensive, heavy, and require a lot of upkeep. Faux wood doors are stunningly realistic. Amarr's Canyon Ridge collection, for example, even features a choice of grain patterns from real timber. Combine the strength of steel with the appeal of wood, and you'll have a home that looks magnificent.

Make Your Money Back

A new door is a great investment because it often pays for itself in the long run. Buyers are willing to pay more for a home that looks great, and since the garage door is a big part of your house, it needs to make a good first impression, and a great last impression, which is what they'll see when they look back while leaving. Make your property that much more appealing by replacing your door with a new one that has a lot more curb appeal.

Save Money On Energy Bills

A badly-insulated garage door will force you to spend more money trying to keep your house warm during the winter and cool over the summer. Older door models are often fitted with thin, inefficient insulation that doesn't do a great job, and this is usually expensive to replace. Consider getting a new door altogether with purpose-built insulation to cut back on your monthly spending.

Resilience and Strength

Modern techniques make the door models available on the market today even tougher and more durable than their predecessors. If you're looking for a new garage door that will stand the test of time, our team can provide one from any of the brand name manufacturers we work with, such as Clopay, Sears and Windsor. Get in touch with us to consult with our experts about the different material and design options that are available to you.