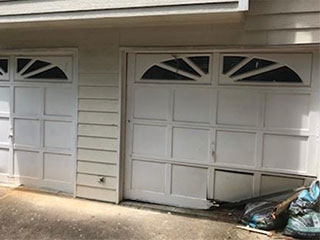 There are a huge number of different issues that can affect your garage door, from broken springs to dents in the door panels. These can range from annoying to extremely dangerous, and with a system as strong and as well-used as your garage door, it's essential to get problems fixed fast. That's where we excel - it's our job to repair any issue you're having as quickly as possible, so you can get back to your day.
Replacing Broken And Worn Springs
Springs will inevitably wear out with time, and can cause a lot of problems when they do. A completely broken spring will render your door unusable, while weak ones can be extremely dangerous - both should be replaced as soon as possible. Our team will quickly and safely replace your broken torsion or extension spring, and return your door to proper working condition.
Repairing Malfunctioning Openers
Opener malfunctions can be very difficult to track down, since they can be caused by a wide range of different issues. Circuit board failures are especially difficult to identify. Luckily, our technicians have the depth of experience to pinpoint the root cause of the problem. We're able to supply new boards for all major brand names, such as LiftMaster, Linear and Genie.
Fixing Cable Problems
Your door cables can fray without you noticing, creating a weak point in your garage door's support system. This can be pretty dangerous - frayed or braided cables need to be swapped out as soon as possible. Our team can provide expert assistance when it comes to fixing worn-out cables, and will be able to supply and fit a new set for you.
Schedule Your Repair Service Today
After more than a decade of working on our customers' door systems, our team has fixed every sort of problem there is. If you need services you can rely on to get the job done properly, contact us at Garage Door Repair South Saint Paul today.
We also offer the following:

Broken Cable Replacement

Part Replacement & Repair

Screw Drive Opener Replacement

Galvanized Torsion Spring Installation