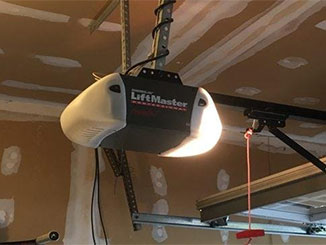 If you suddenly discover that your automatic door is refusing to open for some reason, or if it seems to have decided to reverse every time you try to close it, you may be experiencing some opener related problems. This motorized unit consists of both electrical and mechanical components, so the reasons for the malfunction can be hard to pinpoint without a thorough inspection. Our professional technicians specialize in garage door opener repair, and we can quickly troubleshoot and solve any problem you may be dealing with.
Unexpected Mechanical Problems
While some things can be obvious, like a broken chain drive or a torn belt, other issues can catch you by surprise. Did you know that the motor gears themselves have been known to break after a while? They may even simply wear out, and prevent the unit from generating the required horsepower. If that happens, you'll probably be left wondering what's wrong while all your opener manages to do is churn out this empty droning sound. Don't worry though, our experts will be able to provide the assistance you need, and we'll quickly get the unit working optimally again.
Annoying Electrical Issues
Unfortunately, your garage door opener is liable to suffer from electrical glitches and not just mechanical problems. Unexpected power outages can cause certain internal components to fry, at which point the unit may begin to behave erratically, or fail to work at all. Electrical problems may also affect the internal components of your remote control, and figuring out exactly what's wrong can be more complex than you may expect. Whether it's a simple matter, like reprogramming the remote, or a more complex issue, like a complete circuit board replacement.
Need Some Help?
If you're having any type of issue with your opener, you can rest assured that our professional technicians at Garage Door Repair South Saint Paul will be able to provide the service you need. Whether you have a screw drive unit or a chain drive model, we'll root out the problem and replace any part that's beyond repair.
Count on us when it comes to:

Fix Garage Door Track

Opener Clicker Repair

Emergency Broken Spring Replacement

Roll up Garage Door Maintenance